the first thing that grabs you when you enter the exhibition is the sheer scale of it.  not just the number of pictures (over 150 in total) but the scale that the artist has created these works.  countless canvases have been stuck together to create huge windows into the scenic yorkshire countryside.  Hockney's draughtsmanship excels in the colours he has used with his palette to bring his paintings and sketches of the woods and trees alive - and there are a lot of trees.
the radiant colours and fantastic greens he used in the pictures almost allow the viewer to smell the freshly cut grass or feel the heat of the rocks in his canyon paintings.  You will feel totally emmurised in this exhibition, almost to the point you'll feel you are in the paintings.  the study of these landscapes which have taken many years to complete and collect cant help but make me think of Van Gogh great field paintings in there detail and aesthetic.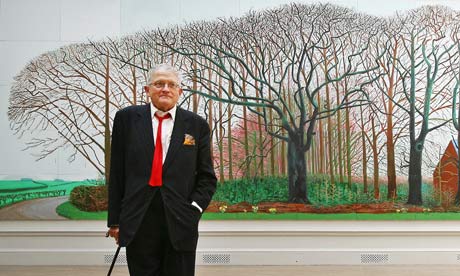 Hockney's paintings focus on the changing of the seasons and how the landscape adjusts and moves with the continuing months, ending in a beautiful tribute to nature and the yorkshire dales.  
One feature of the exhibtition that has drawn a lot of media attention is the film of a yorkshire road surrounded by trees and woodland.  the film was created by about nine cameras fixed to a car filming as the car slowly drives down this road.  Hockney filmed this same scene over the months whiched once editted results in a film that see's the changes of the seasons almost a time lapse film.  this was an interesting watch, yet for me didnt add any weight to the exhibition, and was not neccessary, including the additional film of some ballet dancers and hockney raising a cup of tea - i still dont understand that at all.
for me the most interesting element of the exhibiton was Hockneys landscape drawings he created on the iPad.  these fantastical landscapes were drawn using a painting app on the hand held device and printed to canvas on a huge scale.  the detail acheived was as good as the oil paintings in the other galleries and was great to see such an artist experimenting with other mediums.
In conclusion a great exhibition of paintings by David Hockney, if your around London until April 9th then drop in and check it out!